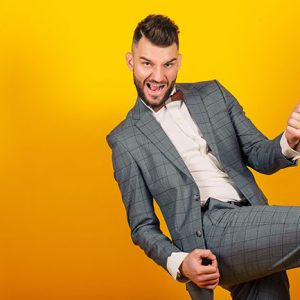 Your greatest success depends on how powerfully you can connect with other people. There really isn't any shying away from it. Because whether you want to impress at interview; promote your business; be seen as an inspiring leader or want to fully express yourself and build rewarding relationships, getting out there and speaking confidently and from your heart will give you the greatest chance of achieving any of those things.
Public Speaking is the bridge that allows you to powerfully reach any audience.
A platform that can help those people you want to reach see the real you; to tune into your ideas, passions and be touched by what you uniquely have to offer. And yet despite the limitless possibilities that public speaking offers you- this method often falls short and fails to bring in the goods.
Why is this? One of the prime reasons is that FEAR gets in the way.
Fear that your subconscious feeling mind triggers at lightning speed, over-riding your conscious thinking mind and causing you to believe the worst and feel overwhelmingly anxious about speaking infront of others.
Fear that can lead you to adopt awkward speaking habits that can affect your performance and leave the audience questioning your confidence, credibility and at worst questioning your level of passion.
Fear that can cause you to avoid speaking altogether –thus denying yourself the chance to ever show what you are really made of and denying yourself the possibility to meet your potential.
Sound familiar? In a matter of hours this unique programme offers a quick and painless solution to this common problem.
How my programme can help
In a matter of hours this unique programme based on my expertise as a hypnotherapist, coach and health professional can help you to:
Leave behind disabling nerves or negative past experiences that may have been haunting you or sabotaging your current speaking potential
Feel confident, relaxed and excited about speaking infront of any audience, big or small- helping you to transform your performance into one that is memorable for all the right reasons.
Truly excel in speaking situations, so that you no longer settle for 'getting by' or merely 'coping' when you are speaking
Develop a new inner confidence that helps you naturally let go of fear, so that you can re-focus your energy on magnetising your audience

One hour laser coaching session
Using my expertise and experience as a coach and therapist we will quickly get the heart of your speaking fears and without wasting any further time begin planning your smooth transition into the fearless speaker you have always been.

Speak easy personalised hypnotherapy
Each one hour live hypnotherapy session is specifically tailored to match your personal needs and goals. There is no generic script and I ensure that each client I work with receives a service that is extremely high in quality, expertise and effectiveness.
Fearless speaking toolkit
You will gain immediate access to powerful, tried and tested tools and techniques that can help you kick start your freedom from speaking fear and help you stay out of the fear zone.
I offer a free half hour discovery call. Confidentiality is assured at all times.
Individuals
Whole Package Price
Laser Coaching
Speak easy personalised hypnotherapy
Fearless speaking toolkit
Total Cofidence and Hypnotic Download